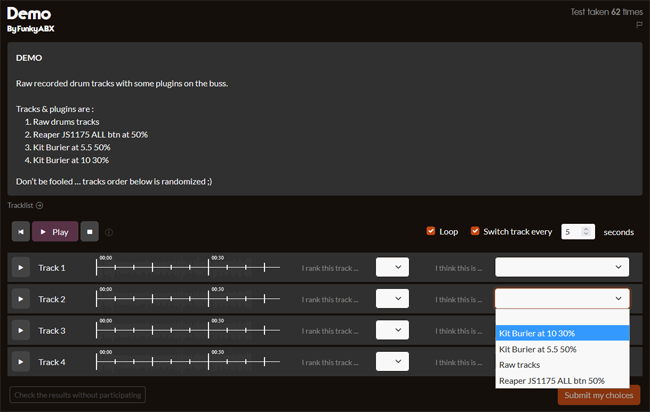 FunkyABX
Groovy blind tests!
Create tests to rank and identify your favorite compressors, saturation plugins, microphones, instruments, etc ... or even whole mixes!
1199 tests created so far...

Test type
Choose the best kind of test for you:
stars, ranking, recognition, abx...

Invitations
Invites people and view their results

Local tests
Use your local files to create an ephemeral shoutout in seconds
From the gallery
Kohlekeller Studio - Audient vs API SSL
Two interfaces & converters.
Drums comparison.
Only one track is processed by an analog compressor. Please pick it up!
By Dark Narcissus
I provided three tracks of piano record, from which one is processed by an analog compressor, two are processed by different plugin compressors. Pleas (…)
Ribbon Mics only: X-Y, A-B, M-S, ORTF, Recorderman, Glyn Johns
By FunkyABX