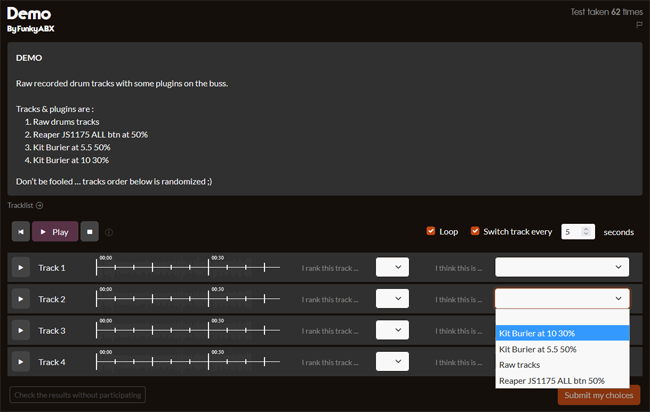 FunkyABX
Groovy blind tests!
Create tests to rank and identify your favorite compressors, saturation plugins, microphones, instruments, etc ... or even whole mixes!
383 tests created so far...

Test type
Choose the best kind of test for you:
stars, ranking, recognition, abx...

Invitations
Invites people and view their results

Local tests
Use your local files to create an ephemeral shoutout in seconds
From the gallery
MDWDRC2 vs. P11 Abyss
By Erik_Lucas
Tracks:
1. DRY
2. MDWDRC2
3. P11ABYSS
Abyss P11 - 1.6 dB vs. Sonoris - 1.4 dB
By Neil R.
Testing the sonic qualities and preference for files compressed by the Abyss P11 and Sonoris compressors along with original uncompressed track. Quali (…)
"Evanescence - What You Want" Youtube OPUS256 vs CD 16/44
By ChExi