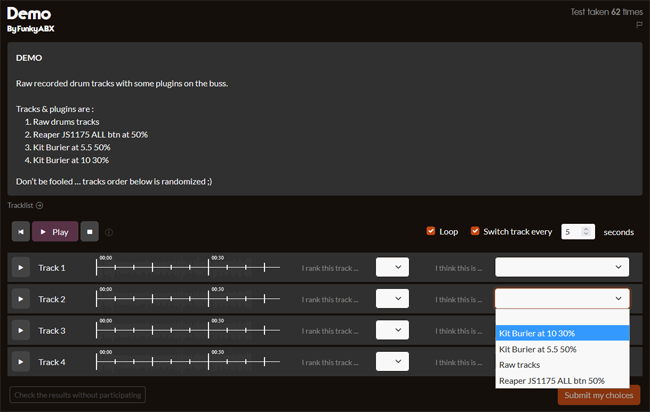 FunkyABX
Groovy blind tests!
Create tests to rank and identify your favorite compressors, saturation plugins, microphones, instruments, etc ... or even whole mixes!
737 tests created so far...

Test type
Choose the best kind of test for you:
stars, ranking, recognition, abx...

Invitations
Invites people and view their results

Local tests
Use your local files to create an ephemeral shoutout in seconds
From the gallery
Kohlekeller Studio - Audient vs API SSL
Two interfaces & converters.
Drums comparison.
mp3 vs lossless: Track 6
Tracks:
1. 06 Blackjack Heart 84376587
2. 06 Blackjack Heart 87436748
Drum overhead - Samar AL95 vs Beyerdynamic M160
By singaiya
I positioned the mics as near to each other as possible, pointing straight down over the snare drum. The first part is just a brief drum beat on its o (…)